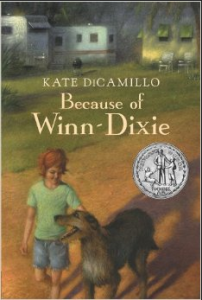 Because of Winn-Dixie is the story of the wonderful friendship between a young girl, India Opal, and an adorable dog, Winn-Dixie. India Opal had just moved to Naomi, Florida. There, she didn't have any friends and she desperately missed her friends, her home, and her mother who left her when she was a little girl. In this new chapter of her life, she makes new friends of all ages, but, most importantly, she  meets a tenderly rendered canine that was causing mischief in a supermarket, the Winn-Dixie supermarket. India Opal decides to adopt that dog, after her father's approval.  She also decides to name her newly found companion, Winn-Dixie in honor of the place they met. Among the wonderful friends she makes are Gloria Dump, an elderly and lonely woman, Miss Franny Block, a librarian, and Otis, an ex-con who got a second chance in life and enjoys playing the guitar… This book ends in a happy and sad way at the same time.
I really enjoyed reading this book as it is written in very simple language, but yet conveys an array of intense emotions. It was recommended by the librarian and I highly recommend it as well!
Rating:
(5 / 5)
Release Date: 2ooo
Age Suggestion: 9 and up

Publisher: Candelwick Press
This book has won the John Newbery Medal award.