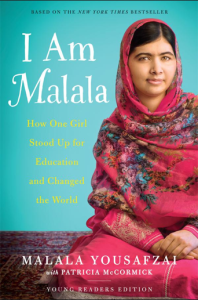 I Am Malala is an incredibly interesting book because of its author, one of my personal role models: Malala Yousafzai. She wrote this book when she was only 11 years old! This young girl is very famous, because of her story of heroism when she lived in Afghanistan under the rule of the Taliban, a terrorist group. The Taliban forbid girls from going to school. But Malala adored school. She was incredibly avid for knowledge, so she defied the rule and continued going to school every day. One day, calmly sitting in the  school bus, going home, some armed terrorists blasted in the bus… and shot her in the head. She almost died from this injury, but she was rapidly brought to England and survived. Following this life-altering episode, Malala has become a role model and activist promoting education for all, especially girls, and open-mindedness. Through this diary, she describes the life of a young girl living under the Taliban. At first, she wrote under a pseudonym – Gul Makai, the name of a heroine from a Pashtun folk tale. After a while, she got this diary edited and turned into a book: I Am Malala. I read the Young reader's edition of this best selling book. Malala has become an international symbol of peace and was the youngest-ever Nobel Peace Prize nominee.
This book opened my eyes to the dramatic and sad situation of some young girls around the world. I was profoundly saddened by her description of life in Afghanistan but also inspired by her strength, honesty and courage. Definitely a must-read!
—
Rating:
(5 / 5)
Release Date: 2014
Author: Malala Yousafzai with the help of Patricia McCormick
Age Suggestion: 9 and up

Publisher: different publishers have published this book.