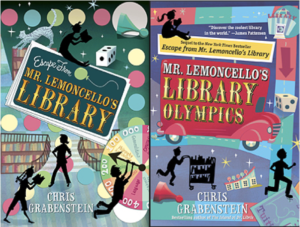 Escape from Mr. Lemoncello's Library and Mr. Lemoncello's Library Olympics are two fun-filled books about a billionaire, Mr. Lemoncello, a world renowned game maker, who creates a library_an extraordinary library_with games, riddles and puzzles to solve, but also millions of books to read! In the first book, Mr. Lemoncello dares some children who have won a visit to his library before it publicly opens, to play a game: escape from the library! The children will have to find clues, assemble them, solve riddles and rebus', puzzles and read books to escape from Mr. Lemoncello's Library!
In the second book that is a sequel to the first one, Mr. Lemoncello organises library Olympics! This time, a team from each state in the US will compete in these Library Olympics. In this book, they don't have to escape but rather play games and solve riddles to win! The players will also need to save Mr. Lemoncello's library from some people with bad intentions…
These are very entertaining, amusing, funny and easy-to-read books… Also, I loved the references to many books I have already read and I enjoyed spending the entire book navigating an environment that I love, the library! I recommend these books to any young reader!
Rating:
(4.5 / 5)
Release Date: book 1: 2013   book 2: 2016
Author: Chris Grabenstein
Publishing House: Random House