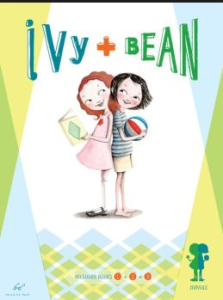 Ivy and Bean are two best friends who have very different characters. Ivy is a red haired little girl that is very quiet and intelligent. She loves reading books and she always wears a pink, purple, or blue headband as well as skirts and dresses. Her favourite colour is pink. Bean, on the other hand, is totally different from Ivy: she is devious, energetic, and rambunctious. She has dark brown hair and despises any kind of dresses or skirts. She is the perfect definition of a tomboy and her favourite colour is green. Bean's real name is Bernice. They have friendly adventures together and always have tons of fun! It is a great series that deals with friendship between such different characters, silliness, pranks, sibling rivalry, adventure, and getting in trouble!
—
Rating:
(4.5 / 5)
Release Date: 2003-2014
Author: Annie Barrows
Publishing House: Chronicle Books.
Age Suggestion: 7-8

Number of books: 10
List of books
Ivy and Bean
Ivy and Bean and the Ghost That Had to Go
Ivy and Bean Break the Fossil Record
Ivy and Bean Take Care of the Babysitter
Ivy and Bean: Bound to Be Bad
Ivy and Bean: Doomed to Dance
Ivy and Bean: What's the Big Idea?
Ivy and Bean: No News Is Good News
Ivy and Bean: Make the Rules
Ivy and Bean: Take the Case
Ivy and Bean's official website